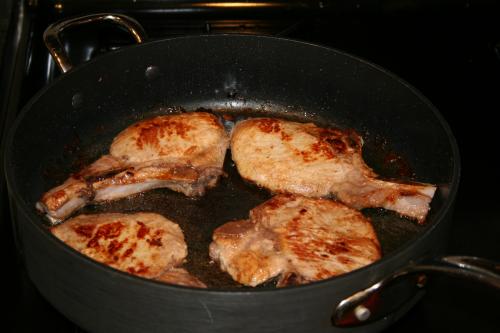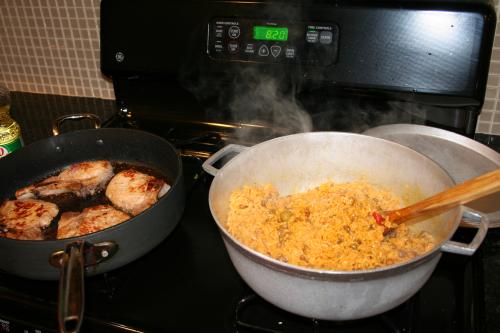 Pork Chops
Ingredients:
4 Pork chops
Salt and pepper, to taste
Yield: 4 Servings
Directions:
Method 1: Oven
1. Preheat oven to 350 degrees.
2. Season pork chops with salt and pepper.
3. Heat oil in large skillet and brown pork chops on both sides. Remove chops to a baking dish, cover with foil and bake for 20 minutes.
Method 2: Pan-Fry
1. In a large frying pan over medium-high heat, add olive oil.
2. Add pork chops and sear on both sides until golden brown and cooked through.
With either method of cooking, the pork should reach an internal temperature of 160 degrees.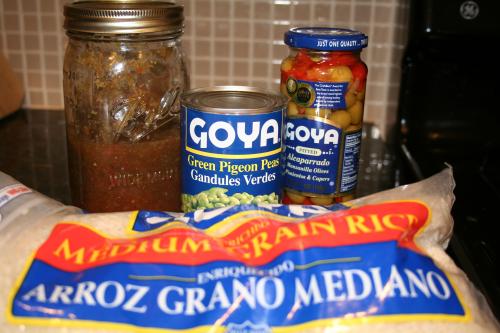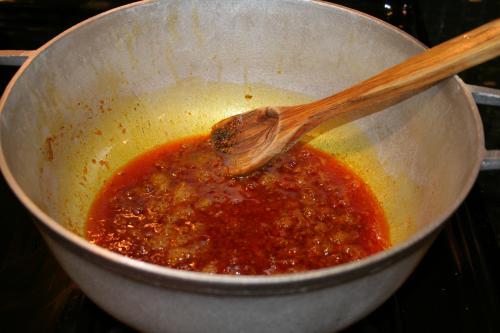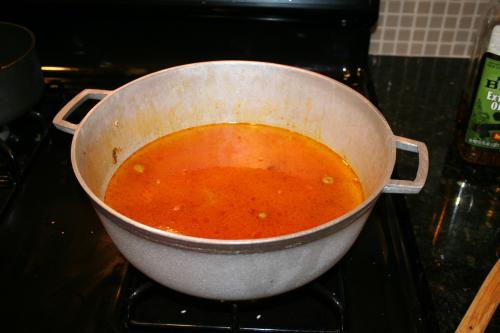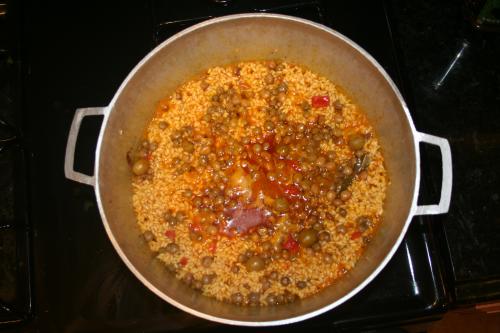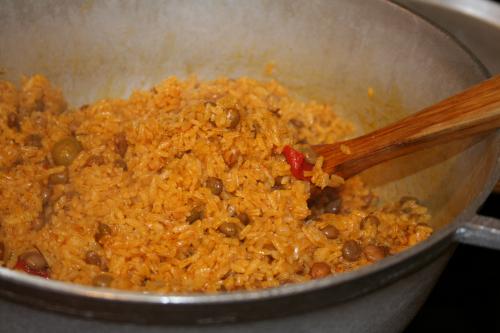 Arroz con Gandules
There are many ways to cook arroz con gandules, below is one method.
Ingredients:
½ cup achiote oil
½ cup sofrito
2 cups rice
4 cups of hot water - appx.
16 ounce can of gandules (cooked green pigeon peas)
2 tablespoons of alcaparrado (cappers and olives mixed together)
Salt & pepper to taste
Yield: 4 Servings
Directions:
1. In a medium size rice pot over medium heat, add the oil and sofrito. Add in the alcaparrado, cumin and sazon. Cook over medium heat for 4 minutes.
2. Add all other ingredients, and enough water or chicken broth to cover the rice the width of 2 fingers (about 4 cups).
3. Start with 1 teaspoon of salt stir and keep adding and mixing well until you are satisfied with the taste.
4. Bring to a boil and cook over high heat until most of the water is absorbed. Once the water has been absorbed, stir gently from bottom to top - once or twice only, cover and turn the heat down to low. Cook for 20 minutes or until the rice is tender.