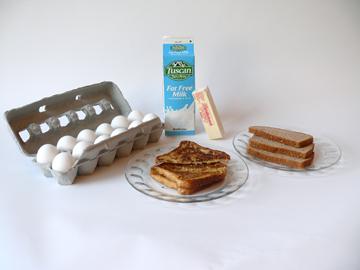 French Toast
Ingredients:
3 eggs, beaten
1/4 cup milk
1/2 teaspoon vanilla, optional
1/2 teaspoon cinnamon
10 slices bread
Yield: 5 Servings
Directions:
1. In a large bowl, mix beaten eggs with the milk, vanilla and cinnamon.
2. Dip a slice of bread into mixture then place on a heated griddle that has been sprayed with nonstick cooking spray. Cook for 1-2 minutes on each side on medium / medium-high heat or until desired doneness.
Serving Suggestions:
Eat with butter and maple syrup.