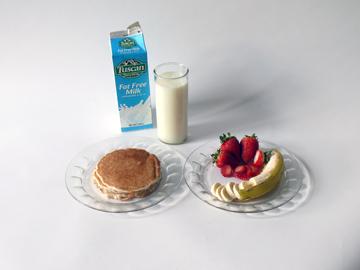 Pancakes
Ingredients:
3 large eggs
1 cup flour (122 grams)
1 heaped teaspoon baking powder
1/2 cup milk (110 milliliters)
Pinch salt
Yield: 6 Servings
Directions:
1. Separate the eggs, putting the whites in 1 bowl and the egg yolks into another.
2. Add the flour, baking powder and milk to the egg yolks and mix to a smooth thick batter. Whisk the whites with the salt until they form stiff peaks. Fold into the batter.
3. Put butter or oil on a medium sized pan, heat on medium heat. Pour in a ½ cup of batter and cook until edges become golden and batter starts to bubble and pop. Loosen with a spatula and flip pancake over. Continue cooking until both sides are golden. Remove and serve hot.