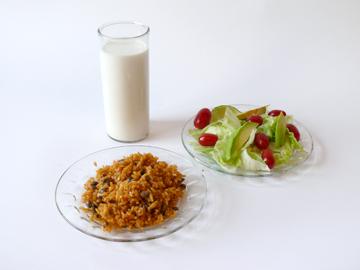 Rice and Beans
(Arroz con Gandules)
There are many ways to cook arroz con gandules, below is one method.
Ingredients:
½ cup achiote oil
½ cup sofrito
2 cups rice
4 cups of hot water - appx.
16 ounce can of gandules (cooked green pigeon peas)
2 tablespoons of alcaparrado (cappers and olives mixed together)
Salt & pepper to taste
Yield: 8 Servings
Directions:
1. In a medium size rice pot over medium heat, add the oil and sofrito. Add in the alcaparrado, cumin and sazon. Cook over medium heat for 4 minutes.
2. Add all other ingredients, and enough water or chicken broth to cover the rice the width of 2 fingers (about 4 cups). Start with 1 teaspoon of salt stir and keep adding and mixing well until you are satisfied with the taste.
3. Bring to a boil and cook over high heat until most of the water is absorbed. Once the water has been absorbed, stir gently from bottom to top - once or twice only, cover and turn the heat down to low. Cook for 20 minutes or until the rice is tender.
Avocado Salad
Ingredients:
¼ head of Lettuce (any type)
1 Tomatos
1 Avocado
Yield: 2 Servings
Directions:
1. Wash and prepare vegetables. Mix together. Serve.
Serving Suggestions:
Be creative with your choice of vegetables and add more variety to your pallet!